This year Welcoming Week will take place on September 9-18. Through Welcoming Week, organizations and communities bring together neighbors of all backgrounds to build strong connections and affirm the importance of welcoming and inclusive places in achieving collective prosperity.
Welcoming America is proud to lead the growing network of hosts and partners around the United States and world who strive to make their communities a more welcoming place for all.
What is Welcoming?
How and where to participate in Sammamish:
Namaste India | 12:00 PM - 6:00 PM on Saturday, September 17
Namaste India is a free event hosted by the Vedic Cultural Center in partnership with the City of Sammamish where you can experience the colorful arts and culture of India. This event will be held at the Sammamish Commons and will feature performances from various artists, food, music and fun activities. Learn more by clicking here.
---
Sammamish Library Events
The Sammamish Library will host a series of Welcoming Week events on Sunday, September 18. Please see the full list below and view the latest information on these events by visiting the King County Library System website.
Outdoor Family Story Time at the Sammamish Library | 12:00 - 12:45pm on September 18
Join the Children's Librarian at the Sammamish Library for stories and songs celebrating Welcoming Week and learn to make a Peace Wreath to take home! Mayor Kali Clark will read a children's story book as part of this event.
Japanese Origami at the Sammamish Library (RSVP Required) | 1:00 PM – 2:00 PM | September 18
Celebrate Japanese culture by learning the art of folding paper into decorative figures! Make two shapes to take home, or just enjoy the display.
Northwest Passages at the Sammamish Library | 2:15 PM – 3:00 PM | September 18
Witness the dynamically changing Northwest at the turn of the century. The expansion of the railroad, labor struggles, World War and a Pandemic.
Folk Dances from Bulgaria at the Sammamish Library | 3:30 PM – 4:00 PM | September 18
Enjoy the rich, uneven rhythms that will lift your spirits! Then learn the steps of a simple village dance.
---
Sammamish YMCA Events
Please see the image below for events hosted by the Sammamish Y throughout the week!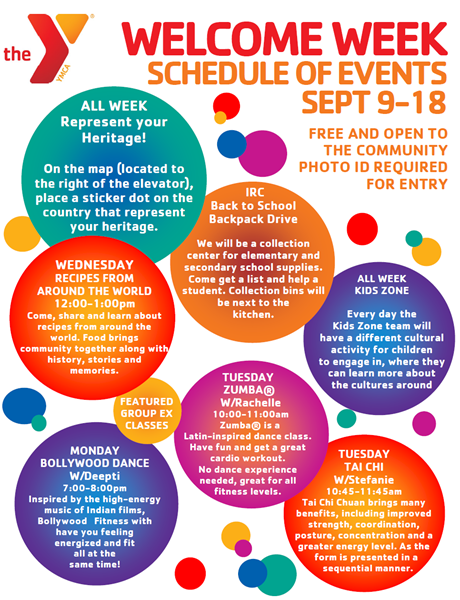 ---
Other Welcoming week events around the world: https://welcomingamerica.org/initiatives/welcoming-week/events