What is Macaroni Kid? Macaroni Kid is a website. It's also an e-newsletter. What's the difference? They're the same thing, except that once the newsletter is "published" each week (e-mailed to each subscriber on Thursday's at 2:45pm), then we change the website to reflect some of the newest articles and calendar listings. The advantage of subscribing is that you will automatically get a newsletter with the current calendar of events and activities, articles, recipes, craft ideas, giveaways, and more ... without having to do a thing. So, yes, you should subscribe now (and tell all your friends).
And Macaroni Kid Snoqualmie Valley-Issaquah-Sammamish is published by two moms. We live in your community. We support local businesses and shop where you shop. Our kids play where your kids play. We attend the events we tell you about. And we work hard each week to make sure things are as accurate as possible (but we do recommend checking before you head out...just in case).
Calendar of LOCAL Events:
Although there is a list of current and upcoming events listed in the main part of the newsletter/website, this doesn't include every activity, so check the EVENTS tab (click on the blue EVENTS tab at the top of the page) to see the entire month of activities and events. We encourage you to check the calendar often because we add new activities and events as we hear about them! You can also search the calendar of events by age, date or category. Want to submit an event for us to add to the calendar? Read below for more on that.
Business Directory & Guides:
Whether you're looking for a local park that's new to you, a music class for your toddler, local preschools or private schools, a camp for your kiddos, the best places to play in the snow, the perfect park, or even the best parenting groups in the area, you can find what you need via our Business Directory and our Guides. You can find the links at the very top of our page too.
Gold Daisy Awards: This annual contest allows YOU to pick the most loved businesses and organizations in Issaquah, Sammamish, Snoqualmie, North Bend. Here's our 2019 list of the best of the best!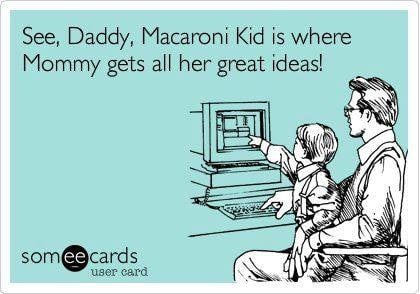 Facebook, Twitter, Instagram and Pinterest:
Yep, Macaroni Kid Snoqualmie Valley-Issaquah-Sammamish even has Facebook, Twitter, Instagram and Pinterest pages. If you "Like" us, you'll be reminded of events and promotions, made aware of new events and Facebook-only giveaways, and interact with us and other Macaroni Kid fans!

Subscribe:
So maybe you're just checking out this website to see what Macaroni Kid Snoqualmie Valley-Issaquah-Sammamish is all about, and you like what you see and want to subscribe. Just click on the handy-dandy Subscribe Now button at the top of the page. Please note your personal information is strictly confidential. We will never give out your email address! Please do let us know how you heard about Macaroni Kid; it's helpful to know which marketing strategies work the best.
Want to be Heard?
Good! Because we're here to listen - to your questions or (constructive) comments, that is. Just email one or both of us: Diana or Annmarie. We'd love to know if there is something you would like to see in the Macaroni Kid newsletter (a specific topic, event/activity, or product).

Want to Submit an Event?
Are you having an event that you want to make sure all the families in the Snoqualmie Valley, Issaquah and Sammamish areas know about? Well, it's super easy to let us know...just Submit an Event!
Thank all of you so much for taking the time to visit and read Macaroni Kid Snoqualmie Valley-Issaquah-Sammamish. We hope you enjoy reading it as much as we enjoy producing it for you.